BUY THIS PRINT
(Starting at $50)*
We offer Limited Edition framed (numbered) prints for collectors and fine art enthusiasts, and affordable Standard Edition (basic, unnumbered) prints for general home and office decor. For further details on both options, see our section on Collecting Compassion Gallery Art.
For more information on acquiring a print, please fill out the form below.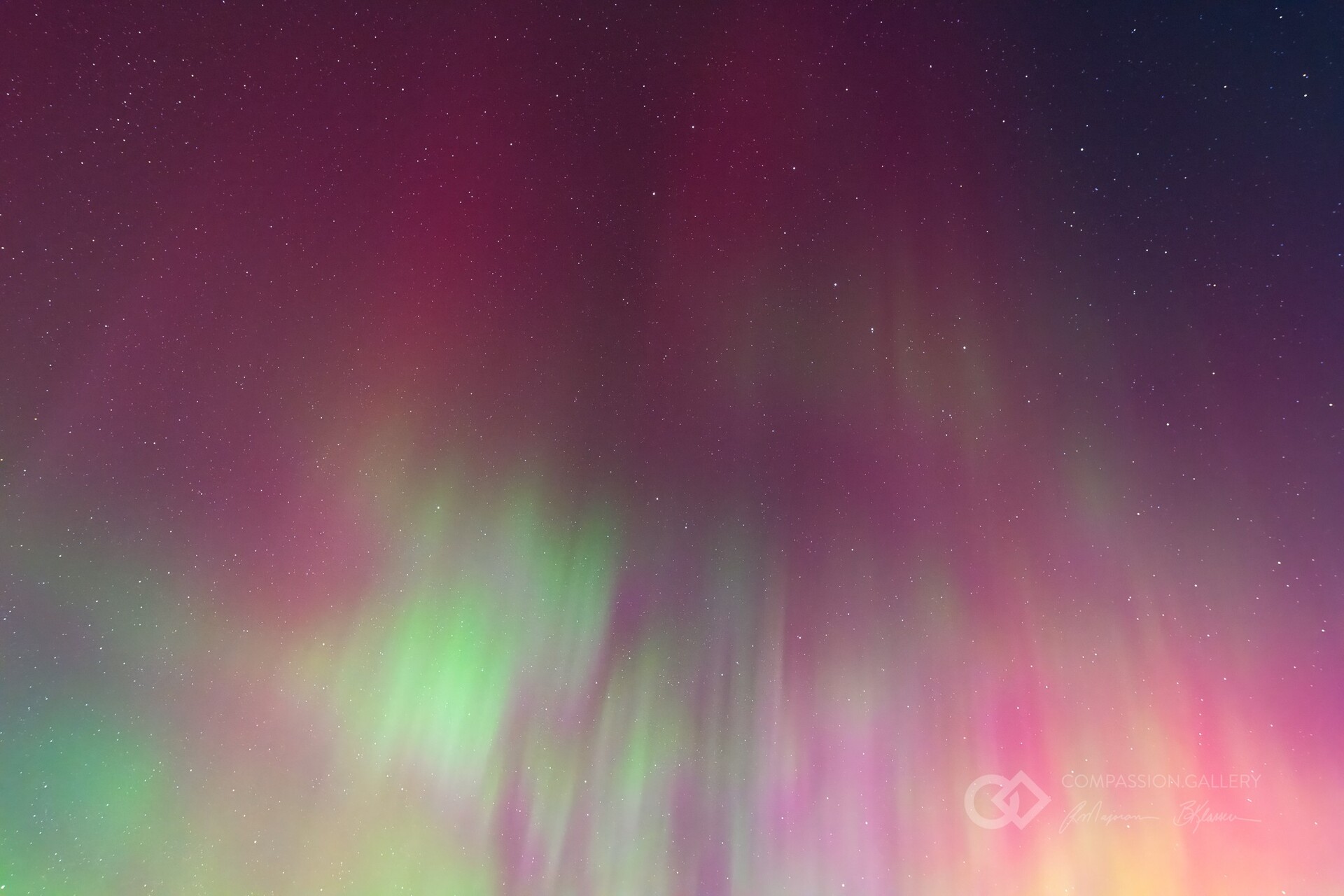 Zoom In
Preview This Photo in a Room
Notes from Ray
On Thursday, March 23, 2023, God gave us a surprise aurora display of epic proportions. I went out around 9pm, and captured some beautiful photos of deep green auroras. Around 10:50am, while I was standing on a bridge near Lucan, Ontario, the sky exploded before my eyes. It started with several bands and was so intense that I actually pointed the camera to the south (not just north) and captured them. It felt like the heavens were torn open right above where I was standing.
Several people have asked me when they will be visible again. I've shared this article in the past, but just in case, here it is again: The Northern Lights: An Educational Guide from a Lower-Latitude Photographer. The main thing to understand is — they aren't just happening all the time (at least not this far south). Often when I get an alert, I will go out driving and only see faint pale auroras in the distance); sometimes, I don't see anything (especially if it's cloudy). Usually, moments like this happen quickly and by surprise. The best advice I can give is — if you get an aurora alert (see article), take a drive to see what you can see. If something extraordinary happens, then you are there to witness it. If you see nothing, well, at least you get a nice country drive out of it. Either way, praise God.
---
Oh, that You would tear open the heavens and come down
— Isaiah 64:1a (ESV)
View More Photos by Ray Majoran
View Ray's Personal Site