The Ultimate Love
Space (Deep Sky Object)
// SKU: SPACE-10069846 //
Ray Majoran
BUY THIS PRINT
(Starting at $50)*
We offer Limited Edition framed (numbered) prints for collectors and fine art enthusiasts, and affordable Standard Edition (basic, unnumbered) prints for general home and office decor. For further details on both options, see our section on Collecting Compassion Gallery Art.
For more information on acquiring a print, please fill out the form below.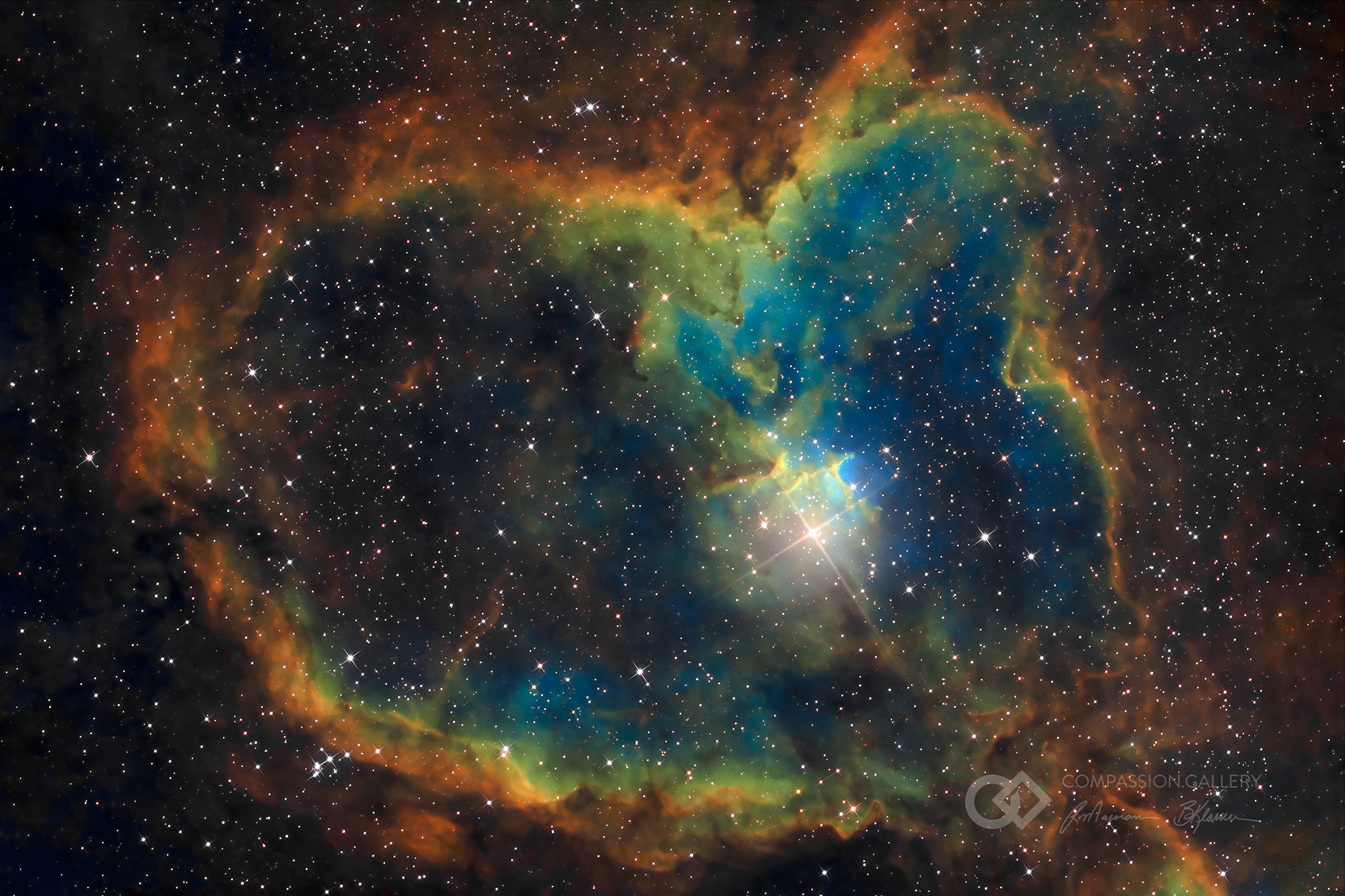 Zoom In
Preview This Photo in a Room
Notes from Ray
(Sh2-190 / IC 1805 - Heart Nebula, Constellation Cassiopeia)
Over 2,000 years ago, our Sovereign God sent His one and only Son to this earth to be born, and then to die for our sins so that we could live with Him eternally. It is a measure of love that I cannot comprehend.
The more I enter into the world of deep space photography, the more I bow in awe to our wondrous and glorious God. The following image is classified as Sh2-190, also known as The Heart Nebula. Sh2-190 is located about 7,500 light years from Earth. To render this image, I photo-stacked 51 x 1800 second exposures together for a total of 24 hours of data—7.5 hours of sulfur, 8.5 hours of hydrogen, and 6.5 hours of oxygen). The sulfur is represented in the outer orange band, followed by hydrogen in green, and then oxygen in blue.
God is an incredible artist! Be sure to thank Him today for the love He showed us by sending His son Jesus over 2,000 years ago to save us from our sin.
For God so loved the world that he gave his one and only Son, that whoever believes in him shall not perish but have eternal life.
— John 3:16 (NIV)
View More Photos by Ray Majoran
View Ray's Personal Site